At Trites Orthodontics, we are more than just straight teeth!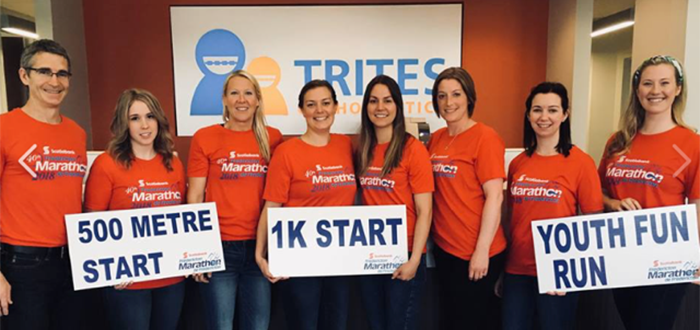 From the time you walk through our front door to the time you acheive your great smile at Trites Orthodontics, we want to make you feel welcome and comfortable. Teamwork is what makes our vision of an outstanding orthodontic practice a reality. Although each team member brings her own specialized skill to the mix, everyone knows exactly how to blend abilities to create a positive atmosphere as we work towards achieving exceptional results for our patients. We are committed to being complete and comprehensive in our service to you, and take great pride in the relationships we establish with our patients.
Our team is well trained and skilled, and we strive to provide energetic and fun-loving service to each patient. We perform exceptional treatments with the latest in technology and advances by regularly attending continuing education courses and seminars. We strive to be accommodating and sensitive to our patients' needs and questions. We reinforce the importance of clean and healthy teeth, and we're always looking for a reason to have fun and share a smile or two while we help to create beautiful smiles for life!
Appointment Coordinators
Our wonderful front office team will greet you with a welcoming, friendly "hello" as you enter our practice. They are available to answer any questions you may have, help you schedule appointments and help with financial arrangements. We take great pride in our ability to provide quality patient care. You'll feel welcome and well taken care of the moment you enter our practice.
Appointment Coordinators: Kristie, Alicia
Treatment Coordinators
Our knowledgeable and friendly treatment coordinators are here to guide you through your treatment from the very first day you walk through our door to the day you get your braces off. Using a set of diagnostic records that will be taken on your first visit, the team will give you a comprehensive explanation of what your treatment plan will involve, answer any questions you may have, and help you book the appointments you need to get started on your orthodontic treatment to be on your way to an outstanding smile!
Treatment Coordinator: Courtney
Patient Care Coordinators
Our chairside patient care coordinators are here to help make you a new smile! Each patient care coordinator is dedicated to making sure you are comfortable and that your orthodontic treatment is an enjoyable experience. Whether you're having your braces adjusted or your braces removed, our chairside team is gentle, friendly, and always available to answer any questions you may have.
Patient Care Coordinators: Serenity, Abby, Robyn, Jade